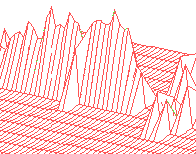 Another one for the "because I could" department: I've been having a bit more of a play with gnuplot and have ended up creating 2d and 3d plots of wind direction vs wind speed.

For the moment they only appear on the page of graphs for yesterday's data; the reason for this is that creating these plots is a little more processor-intensive than the other graphs and, if I create them for the last 7 days they look rubbish.

File Under: Weather Data, Wind Speed, Wind Direction, gnuplot.