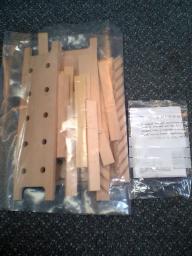 The shelter I ordered last week arrived this morning. I've not had the chance to check all of the contents yet but, at first glance, it looks like it's more or less all there.

I say "more or less" — there's a note attached to the instructions saying that the instructions are from the 1980s and, since then, the wood they use has changed. Because of this it claims that the panel pins that are listed in the inventory are no longer included and that you should simply use a glue (they suggest No More Nails). Something else that's in the inventory but doesn't seem to be in the pack is the latch that holds the door shut. Hardly an expensive item to go out and buy but I'll drop Metcheck a line just to be sure.

Update: I just realised that the latch for the door isn't the only item that is missing — the hinge for the door is also missing. An email has been sent to Metcheck.

Update: Just had an email back from Metcheck. The latch and hinge will be going in the post tomorrow.

File Under: Metcheck, Instrument Screen, Personal Weather Station.