The stats page on my weather station site has always had an all-time wind distribution table. The idea is to get some sort of idea of where the wind generally blows from at my location. While it does give that information it doesn't really have that "at a glance" feel to it that you really want.

This morning I decided that this data might also work well as a "compass graph":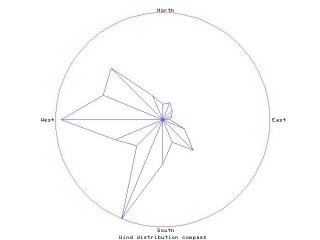 I think that does a very good job of giving a "at a glance" appreciation of the data. What's really interesting is that the two main peaks are west and south-south-west. Generally the prevailing winds in this part of the UK are from the south-west so you'd expect the peak to be there. I suspect that the reason for the result you see above is that there's a house to the south-west of my setup and it's creating a wind shadow.